Lisa《PRC PLAYMATE》Live AV Squirting Experience
《90mins UNLIMITED SHOT》

LIVE AV SQUIRTING EXPERIENCE
THE HIGHEST POINT OF EROTIC SEX ACTS POSSIBLE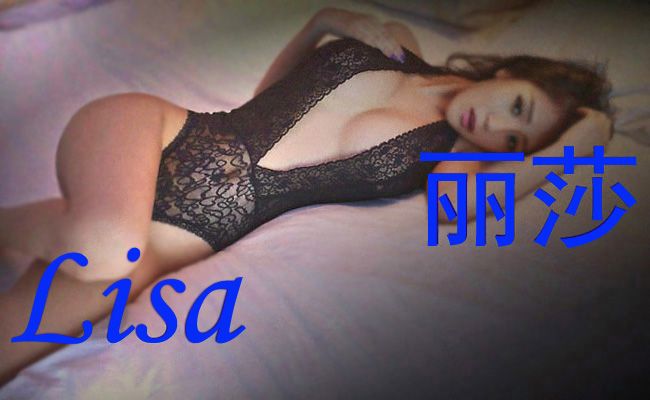 NOTHING WILL EVER COME ANYWHERE CLOSE
TO THESE INTENSE SEXTASY
Name : Lisa ~ 丽莎

Origin : PRC

Age : 31

Height : 1.61

Weigh : 48

Appearance : Enticing, Flirty Sexually Provocative
Body : Bitchy Body with a pair of awesome tits and beautiful ass to show off
Boob : C Cup
She has natural nicely shaped symmetrical tits.
They were perfectly perky no sag and with natural sexy bounce.
Her good size nipples were a beautiful light colour tone.
They were very sensitive and you could almost make her cum by playing with them.
When she flaunt her tits ; itíll certainly provoke envy and admiration!
Will start jacking off just by looking at her pair of awesome tits!
GFE : AV PLAYMATE THEME FANTASY
Seductive, tending non-stop service and always motivating you to cum as many times as possible.
Initiating and very playful, giving and expressing pleasure which you will enjoy sex the way you have not experienced.
It was very saucy, taunt me with her sexy body, this teasing had the obvious effect of making me horny.
Lust was taking over me and she was taking her time teasing and torturing me 。。。
My body was burning up, my juices oozing out of me, she had me right!
The perfect pleasure and Dicky was having very powerful hard on oozing with precum and felt like exploding.
It was absolute rapture. I have never felt so excited and enthralled.
Its Is The Ultimate In Love Making
Shower : Sensual Bath
Enjoy the foreplay in shower room. Body soap rubbing that will bring Dicky in full erection.
I love the bitchy look on her face when she asked to help wash her pussy 。。 she moan with pleasure while
I was soaping her pussy and she asked to finger fuck her.
Oh my goodness 。。。Her pussy was tight even with my well lube middle finger!
Lisa was in a trance shaking all over and shivering with pleasure!
Her dominant hand was stroking Dicky while she vigorously rubs her clit with her other hand
This sensual moment Dicky was hot and hard as a rod 。。。
Lisa relieved me with a sensational
BBBJ
with
Cum-in-Mouth
Cat Bath : Killer Lick with Sensual Body Slides
Start by using her sexy body sliding over mine.
The feel of her smooth skin and her gorgeous firm tits running over my body was enough for me to understand
the true meaning of ultimate love making.
Never realized I could get such feelings from her body. Her aroused nipples were hard ached and it sends sensation
shock waves of pleasure onto my body.
Enjoyed the soft touch of her tongue all over my body. She was exploring every inch of my skin.
I was lost in the new world of sensual pleasure with eyes closed and heartfelt the experiences.
Felt loved and I was just like a little lamb.
It was pleasurable, relaxing "Brain Shivers" that are so nice that no words could describe this ecstasy.
BBBJ : Power Pack Erotic Techniques with Cum-in-Mouth
Performing a Super Power blowjob isn't everyone's talent, but this slutty playmate is gifted!
Sucking and swirling her vibrating tongue around the corona, strumming the frenulum and underside of the shaft.
Start off with her Sensual Body Slides and Killer Lick, cat-bathing slowing going down the body and all the way down south.
Her wet lips teasing the already aroused shaft of Dicky. With her wet vibrating tongue she starts to lick Dicky and take it gently with her lips and into her mouth and she's letting out lots of seducing moaning.
Her tongue techniques stimulate the head and switch between mouthing it and licking it. The sweeping action by her vibrating tongue strumming the frenulum and embouchure the shaft is a top class blow job.
Working her tongue on dicky head and at time giving me some deep throat.
Her hand wanders onto my balls and the inner side of the thighs to stimulate my butt crack with her finger and stimulating the my anus really gently. The tremendous pleasure was so intense and I was on my way to climax.
Lisa was full of exhilarating and getting naughtier.
Dicky was kept well erected for the duration and enjoyed all the sensual techniques stimulation till it finally exploded a full load of cum into her mouth.
Lisa seems to enjoy the taste of cum and was still sucking non-stop trying to juice out as much sperms as possible and
Dicky was still as hard as a rod enjoying this sensual moment.
Frenching :
Passionately Deep Tongue French kissing : Locking lips and tongue ;
Explored my mouth with her soft tongue.
Painting : THE MOST EXTRAORDINARY SEXTASY!!!
BEWARE!
When excitement built, her pussy will Squirts like a Fountain!!!
You may even get Squirts on the face while Muff Diving her cunt!

Spreads her legs to show off her juicy cunt.
Nicely groomed pussy with fresh clit waiting to be stimulated.
Told me she love to have clit flicker and suck, I did as told.
Cup my lips over her womanhood, gently sucking her clit and with my tongue smoothing her clit with soft flicker
and plunged her cunt deep.
Breathing heavily and moaning she starts to rock her pussy back and forth. As I kept going, she stops rocking.
Suddenly, her back arches up and her whole body starts to shake. She grabs the bed rail with one hand and the
sheets with the other. I keep applying pressure flicking her clit with my tongue, and stroking my fingers in and
out of her cunt, applying pressure to the g-spot.
The sexy smell of her cunt juice made me feel weak at the knees.
She was throbbing, wiggling in ecstasy, her cunt was oozing with warm juices and suddenly she pushed my head away!
Her pussy juice was gushing out from her cunt just like a fountain.
OMG ÖÖ. It was like a scene from the AV Squirting movies and I am doing it LIVE!!!
I was literally trembling with excitement when I realized what had been going on, and I was soaking wet.
Those Orgasmic Squirts Are Amazingly Hot!!
SQUIRTING ORGASM : THE LIVE SQUIRTING EXPERIENCE
THE REVELATION SEXUAL EXPERIENCE
Her wild pussy sprays like a fountain when she has an orgasm!
A hot wet pussy that will wrapped itself around Dicky.
She get on top taking dominance, grinding and thrusting.
I was submissive, letting her do all the work.
She is in charge, leading and controlling her ride on Dicky.
Riding back and forth and move her hips in a circular pattern.
Pleasuring her clit with the friction of grinding and thrusting Dicky to stimulate her G spot.
Itís so exciting to feel her hotness and wetness riding up and down my shaft: it's an experience that transport me
to a different level of sexual pleasure.
While she is stretching her pussy the look on her face is amazingly horny and sexy.
Soft sexy moan, can tell she is enjoying her sex. She was moaning and breathing heavily, moisture start
seeping from her cunt. Her pussy tightens as her excitement built!
I groaned as her tight heat slid over me, sending brittle shards of pleasure over my body.
She released Dicky from her cunt and her wild pussy was spraying huge jets of squirts all over!
She let out a loud moan and a second squirts gushed out.
Her body was shaking and squirming in pleasure, I could feel her trembling above me.
It is stunning to see her warm pussy juice squirting like a fountain during her orgasm!
Dropping down laying flat on her back spreading her legs, I knew she wanted me to take control.
How sexy her face was in this moment when she is in the peak of love ecstasy.
Her cunt was still hot and wet, I could feel her getting aroused again, could feel her clit hardening.
Giving her deep long thrusts, her cunt tighten, I could feel her cunt contracting as her excitement built.
I slowing pull away, allowing Dicky to slide almost all the way out, only the hot tender head stay inside
clenching the heat of her pussy.
A moment later slid her deep length again, slowing increasing the tempo of my strokes until her pussy juice was
slipping out of her cunt with every stroke and was running down。。。。。
Lifted her hips to go deeper 。。。。 she let out a loud moan.
Lisa pushes me away and her wild pussy sprayed huge jets of squirt all over again.
She squirted at least 6 Ė 7 times gushing out huge jets and the bed was soaked with her pussy juices!
ITíS AN UNBELIEVABLE ENORMOUS LOVE MAKING EXPERIENCE
NOTHING WILL EVER COME ANYWHERE CLOSE TO THESE INTENSE SEXTASY!!!
Horniness : Be Well Prepared!
She's a real match for anyone.
A libido like hers may prove too much for you to handle and you will need
all your energy to keep up with her rhythm.
Always motivating you for more, you will be drained of every fluid in your body!
Satisfaction : Live Squirting Experience!
NOTHING WILL EVER COME ANYWHERE CLOSE TO THESE INTENSE SEXTASY!
A Once-In-A-Blue Moon Sexual Experience ;
Where Many May Probably Not Have The Opportunity In Their Life Time!!!